I have worked with & used many cosmeceutical skincare brands & cosmetic skincare brands. Dermaquest is the best range I have come across. Not only for results & the changes I have seen in my own skin & also my clients skin but for the company ethics, how environmentally conscious they are.
These products are created by world renowned chemists, using the newest & most effective ingredients, intelligent formulations & enhanced delivery systems so the ingredients can penetrate to change the skin.
The Pursuit of Excellence
The Dermaquest mission is to continue to discover & craft the most innovative & effective skincare products for esthetician, physician & home care use. They are committed to using ingredients of the highest quality & the most advanced technologies, solidifying the bond with our customers through their confidence in the result-driven formulas, experience & knowledge.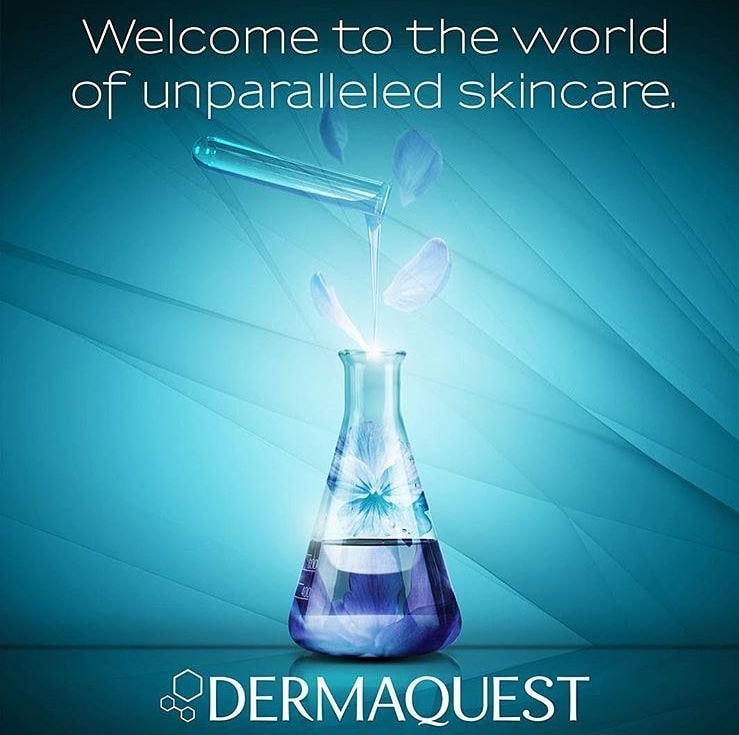 DermaQuest collections provide luxury care, rich in botanical stem cells, peptides & vitamins, with hydrating & protective ingredients that are vital for maintaining skin integrity. The products & sequences do so much more than prime & prepare your skin. While proper cleansing, hydration, strengthening & protection is the best method for beginning to address all skin conditions & achieving balance, this balance provides the foundation needed for advanced treatments using our result-driven client protocols. Moving forward, we have the products necessary to elegantly preserve the effects of our treatments. The rewards of healthy, transformed & nourished skin are not only attainable, they are sustainable.
Their philosophy delivers stunning, long-term results. They are a luxury bottled, a custom regimen brewed specifically for you.
"We are the company you'll want to age with."
Healthy skin is beautiful skin
The Essentials
Our Essentials Collection delivers the nourishment, protection & balance that your skin deserves. Brimming with vital enzymes, vitamins, minerals &nutrients, these core products will revitalize any skin type, & effectively prepare skin to address specific concerns with at-home products & professional treatments.
For a clear forecast
DermaClear
The DermaClear Collection was formulated to combat the many stages & types of acne. Whether you're prone to breakouts or simply need to correct a spot now & then, we offer a variety of products blended to prevent, quell & alleviate the myriad symptoms of acne.
Lighten up
SkinBrite
We crafted the SkinBrite Collection to banish dark spots, under eye circles, & hyperpigmentation concerns through the powers of brightening botanicals & the latest in illuminating ingredients. Don't be left in the dark, our SkinBrite line evens skin tone & brightens for a luminous you.
Sense and sensitivity
Sensitized
We all deserve a little pampering. Whether you've always had finicky skin, or simply have environmental sensitivities, this collection was specifically formulated to care take & purify even the most sensitive skin. With a gentle cleanser, silky moisturizer & a calming serum, delicate & tender skin can be nourished & refreshed without stripping essential oils.
Vibrant, beautiful you
C Infusion
You've got to C it to believe it. The unparalleled powers of BV-OSC, a potent yet gentle, stable form of vitamin C give rise to glowing, vibrant skin. Blended to energize & enchant & imbued with Orange Stem Cells, our antioxidant-rich blends scavenge free radicals while tightening and evening. Let your skin bloom.
The years will be kind
Peptide Vitality
The diverse capabilities of peptides make our Peptide Vitality Collection a miracle for aging skin. Imbued with the strength to prevent & overpower collagen breakdown, paired with their unique ability to plump and smooth, peptides are capable of filling fine lines and wrinkles from within the skin.
Moving forward
Advanced Therapy
If your skin is in need of an extra boost, our products in Advanced Therapy were crafted to be special additions to your personal home care needs. Whether you're looking for added exfoliation, hydration, cleansing or just stepping up your regimen, this collection helps bring skin to the next level.
Luxury never gets old
Stem Cell 3D
Our dazzling Stem Cell 3D Luxury Collection boasts all of the brilliant discoveries we've made as the leaders in plant stem cell technology. With our complete 3D Ritual, you'll be immersed from head to toe in our most transforming & enchanting formulations, crafted to renew, repair & refine your skin with lavish intensity. Leave no stone unturned. Rejoice & indulge in the power of DermaQuest.
Product ingredient efficacy & safety.
Dermaquest key product ingredients have been tested individually for both safety & efficacy.
We can provide the white papers reports for each ingredient. With no animal testing, eco-friendly packaging which is biodegradable & recyclable. The products are all paraben free & FDA approved.
Why Ask Why?
Our ingredients are of the highest quality, ensured by our state of the art lab & team of educators. Since we chaperone every aspect of our operation— from formulation to distribution— we are able to carefully manage costs & make greater investments in research & development. So, why ask why when you can ask why not?