Our clinicians answer some of the most common questions and give you some facts about micro needling.
History of micro needling
Back in 1995, Dr Michael Pistor, the founder of the now well known meso therapy came up with the idea causing micro-injuries to the skin would promote collagen production and this is how the micro needling concept was created.
Two years later, in 1997, it was noticed that the needle dermabrasion using a 'tattoo pistol' could treat scars but it wasn't until the year after that Dr. Des Fernandes started using a small needle stamp as a regular treatment in his surgical practice for collagen promotion.
In 2000, Horst Liebl, was to design the first micro needling medical device which game the ability to treat larger areas of the skin easily and quickly. His device didn't have the shape of a pen but it was more of a drum shaped roller.
It was not until 2004 that a California company called Clinical Resolution Laboratory designed a more advanced version of the device called MTS Roller.
In 2007 the first micro needling pen entered the market and in 2013 Bellus Medical launches SkinPen.
After some adaptations over the years, SkinPen became the first and only micro needling device in the industry to receive FDA approval with over 90 validated requirements met for the device and cartridge.
Is micro needling safe?
During micro needling the treated tissues are the epidermis and the dermis, the top two layers of the skin. No nerves or major layers will be affected during the treatment as these reside in the deeper layers of the skin.
Our clinicians will adapt the needle length according to your needs. Skin thickness can vary between a range of 0.25-3.00mm based on age, gender and treated area. Areas such as the forehead can be more sensitive to treat due to their structure, therefore the anaesthetic cream is applied in order to minimise discomfort.
Why should I choose SkinPen?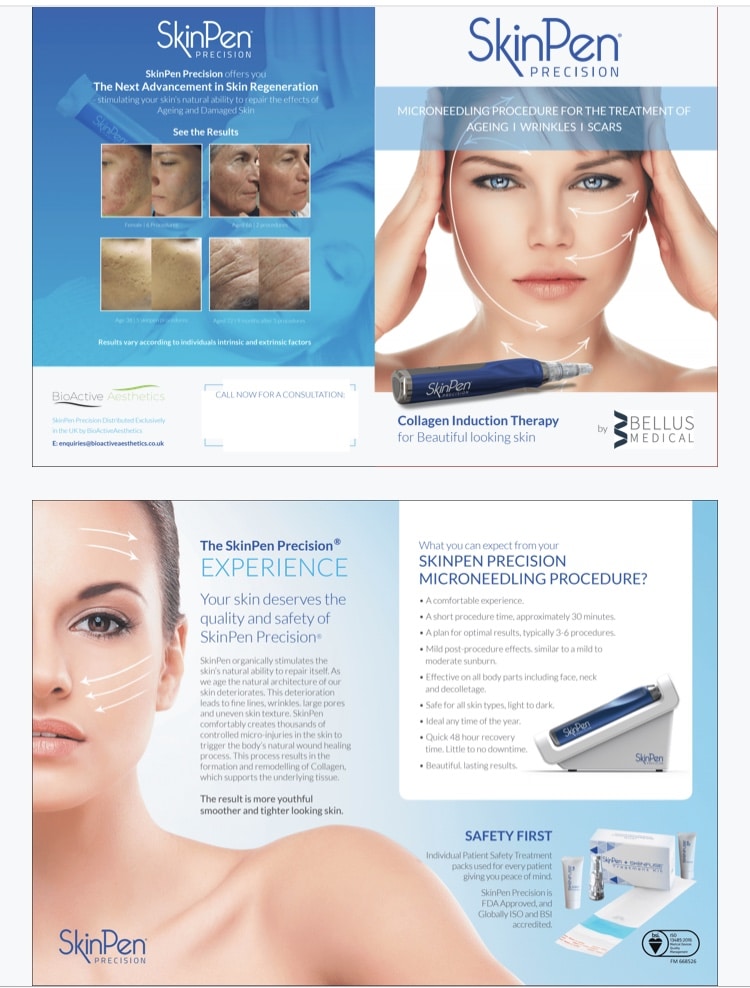 -FDA cleared, Class II device approved in the US, Health Canada and TGA Australia approved.
-First globally approved micro needling device with CE Mark and ISO 13485:2016 Certification.
-Clinically proven to be safe and effective.
-Laboratory tested and validated to prevent risk of cross-contamination.
-Cartridge validated for needle quality, sterility and precision.
-Protects the practice.
-Designed and engineered in the U.S.A. with advanced technology.
-SkinPen precision delivers to your skin 98,000 micro channels per minute.
· Skin Concerns that micro needling can treat.
-Ageing skin with fine lines and wrinkles.
-Acne scars, other types of scars and stretch marks.
-Hyperpigmentation caused by sun or other factors.
-Tired, dull skin.
What should I expect after the treatment?
Post treatment the skin will be warm, reddened and tight. Flakes of dry skin and a little tenderness are very normal to experience in the first few days. Downtime can last between 2-4 days post treatment.
Our clinicians will send you home with the HG lift and rescue products to calm and soothe your skin. It's also important to use sunscreen factor 50 and keep out of direct sunlight to maximise long term results.
· What is Skinfuse LIFT HG and Skinfuse RESCUE Calming Complex?
Skinfuse LIFT HG and Skinfuse RESCUE Calming Complex are the products that your therapist will give you to take home with you post treatment so you don't have to worry about what you can or can't use on your skin.
LIFT HG may be used during and following micro needling procedure to protect skin from abrasion and prevent it from dying out. It's non-cytotoxic and non-damaging to skin calls as it normally contains glycerine and water.
RESCUE Calming Complex supports calming and healing for a scar-free skin remodelling. The anti-inflammatory and anti-bacterial properties of this product will also reduce post-treatment redness for an even shorter downtime.
At Skin Care Clinics we provide free skin care assessments and detailed skin analysis to make sure we always recommend the best products and treatments according to the needs of your skin. Contact us today if you would like to learn more about the fantastic treatment of micro needlin
Click here to change this text